Natalie Susi is a teacher by heart, 
a writer by trade, and an entrepreneur by choice.
Named one of San Diego's Top 10 Female Entrepreneurs to Watch, Natalie Susi is a professor, speaker, entrepreneur, and Conscious Communication Consultant.
During the financial crash of 2008, Natalie was laid off from her position as a college English professor and chose to enter the world of entrepreneurship. She created, launched, and built the brand, Bare Organic Mixers in 2009, and navigated the sourcing, bottling, manufacturing, and distribution process in the food and beverage industry.
In 2014, Bare Mixers was acquired by a leading natural foods company, and Natalie continued to work with the company as the face of the brand. As brand ambassador, Natalie was featured in notable press outlets to include: Forbes.com (Top 10 Female Entrepreneurs to Watch in SD), Pacific Magazine (Top 30 Under 30) The LA Times, E! Online, People Magazine, and Bravo's, The Millionaire Matchmaker.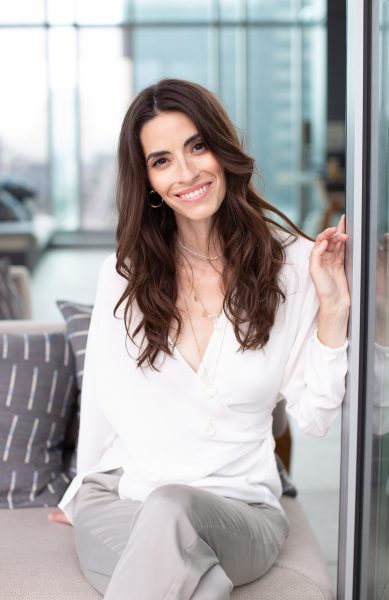 In 2015, Natalie exited the company and returned to education with a unique experience of how to build a business with limited resources and no previous business education. Like so many other first-time entrepreneurs, she spent 8 years learning life and business lessons the hard way. During this process, Natalie became fascinated with the psychology of human behavior and communication and personal development. She delved into concepts such as how to uncover triggers, patterns, and stuck points to facilitate transformative breakthroughs and manifest desired outcomes. She crafted a comprehensive three-step process that empowers individuals to unearth their triggers and patterns, establish new empowering beliefs, and foster a daily practice that solidifies these transformative changes.
Currently, Natalie specializes in providing Conscious Communication Coaching to executives, entrepreneurs, and esteemed business leaders and their teams. She developed a program called The Alignment Method ™ a step-by-step process that supports business leaders in cultivating conscious teams and businesses, so they can minimize miscommunication and wasted time and energy and maximize creativity, productivity, and profitability.
Natalie's coaching methodology blends intuitive business strategy, practical application, and communication coaching, resulting in a transformative alchemy for business professionals. Her services empower clients to expand their personal and professional growth, realize their big visions, and enhance their bottom line. Her clientele spans a range of global corporate entities such as UBS, successful entrepreneurs like Seth O'Byrne, conscious billionaires, as well as mid-level businesses spanning various industries, including health and wellness, technology, CBD, apparel, real estate, space travel, non-profit organizations, and more. Additionally, Natalie serves as a professor at University of California, San Diego, where she teaches a communication course called The Pursuit of Happiness.
When people ask me what I do, I tell them I'm a teacher, a writer, and an entrepreneur.
This story has been 36 years in the making, but most of the life experiences that make up the content on this website were created in the last 12. I'll start at the beginning and break down the major highlights…
I am a born teacher. I have been "playing school" since I was 5 years old. My favorite birthday gift to this day is still my first real chalkboard that my mom found amongst a pile of old supplies at her work. One year for another birthday, I asked my parents to take me to the teacher store, not the toy store (true story).
As I grew up, I honed my leadership skills as class president and vice president of my high school (titles my mom still proudly  shares with people to this day). When I graduated, I gave all of my favorite teachers copies of my wallet size graduation photos, and I wrote on the back, "See you in 4 years as a faculty member."
4 years later, and 5 days after graduation, Concord High School called me up and asked me if I was ready to start teaching.
Set Goals and Speak Things into Existence.
Of course, I had no idea this is what I was doing at the time. I just thought I had gotten lucky. As with most things in life, as soon as I accomplished one goal, I was ready to move onto a new one. One day, I woke up to a quiet voice in my head challenging me to move across the country. As soon as I realized I was scared to go, I packed up my car and started driving to San Diego.
Do the Thing You're Scared to Do.
I got my Master's at San Diego State University, and as soon as I graduated, I was hired to teach at another alma mater. I had my dream job teaching at a college, but I wasn't making any money. I woke up on yet another morning with that inner voice nudging me to start a business. I naively thought it would be no big deal. I often said, "I'll make a sh*t ton of money and then I'll be able to teach because I want to, not because I have to."
It literally never occurred to me that I wouldn't be successful if I worked hard enough and learned all of the things I needed to learn. Of course, this was not the outcome (I can imagine you saw that coming). I had no money, no team, and no experience. I did, however, have just the right amount of ignorance to blissfully walk into US Bank right before the market crashed in 2008 and ask for a loan. I was one of those people the bank gave lots of money too when they shouldn't given me a dime. They handed me 40k and said, "good luck." The market crashed shortly after. If I had walked into the bank a few months later,  my life would look very different.
One Moment Can Literally Change the Trajectory of Your Entire Life.
My first business was called Claudio's Italian Ice, named after my father, an Italian guy right off the boat. Italian Ice is a big seller during the hot East Coast summers, so naturally, I thought it would be a hit in sunny San Diego. It wasn't. West Coasters had no idea what Italian Ice was, and selling it at farmers markets meant waking up before 6 AM to build up and tear down a store all in one day just to bring home $100.00 (if I was lucky). My first business was a pretty big failure. Just as I was about to throw in the towel, my friends asked me to bring my Italian ice to a party, and they started mixing it with alcohol to make low-calorie cocktails. Everyone loved it, and that inner voice told me to pivot and turn Claudio's Italian Ice into SoCal LowCal which then became Bare Mixers. I thought "This time, I really hit a home run."  Once again, I had gotten involved in a business venture that I was unprepared for, but this time, I knew just a little more.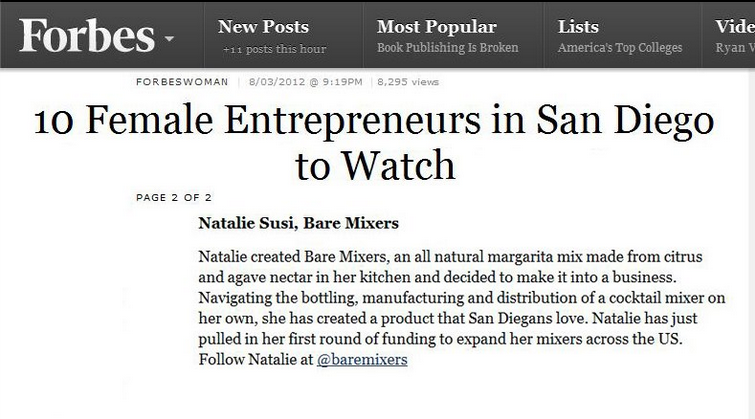 Life (and business) is all about the PIVOT.
I went back to the drawing board, read a lot of books, and learned how to build a brand. Then, I found some incredible mentors (shout out to Pat, Cheryl, Max, and Steven!) who helped me put my lessons into action.
Mentors Are the Key to Your Success
I was determined to finish what I started, and at my core, I was still an optimistic teacher who had faith that with a good idea and enough research; I could make something out of nothing.  Every day was a struggle. I wore all of the business hats from manufacturing to marketing, and I delivered 60 pound cases of product out of the trunk of my Hyundai to all of our accounts. On many days, I cursed myself for starting a business, but in the hardest moments, that inner voice would say, "Someday you're going to combine your knowledge as a teacher and your experience as an entrepreneur and you'll help people find success faster."
Our Failures and our F*ck ups Lead Us to Our Biggest Life Lessons and Our Biggest Successes.
In the midst of all of this business building, I also fell in love with one of my best friends from my hometown in Delaware. Together, we decided that I would try to find a buyer for the company, so I could move back East and start our life together. We happily weathered a long distance relationship for 2 years, then 3, then 4 and still no buyer came. By the end of the 4th year, the relationship had deteriorated and 10 days before my 30th birthday, I got the boot instead of the ring. This breakup helped me coin the term "ditch moment" where I experienced a whole new level of depression that ironically came just a few months after I stopped taking Lexapro, an antidepressant that I had been relying on for 10 years. This "ditch moment" officially launched my first trek down the personal development rabbit hole where I studied how to deal with heartache how to implement daily happiness practices that help you stay present, and holistically beat depression and stay off of antidepressants.
"I F*cked up so
you don't have to."
Plans don't always turn out like you plan (you'd think I would have learned this by now…)
In one month, I lost my boyfriend, all three of the jobs I was doing to stay afloat, and my business was tanking. It became very clear that the universe/God was trying to send me a message. Nothing was working and everything had fallen apart, so I finally took a moment to stop, reassess, and rebuild. I went from working 24/7 to having zero jobs, so I meditated like my life depended on it. I envisioned what I wanted to create and how I wanted to sell the company, and 6 months later, with the help of two of my mentors, I sold my company to a leading health foods company who loved the concept behind my homegrown brand that I playfully called my "Bare baby." I created it, I birthed it, and I nurtured it. I spent many sleepless nights worrying about it. At times, I sacrificed my bank account, my relationships, and my sanity.
Stop Grinding and Start Getting in the Flow. The company that bought Bare Mixers hired me to be the face of the brand, and I went from being Founder and CEO to an employee with the title, "Brand Manager." I moved to LA and worked with the company for 15 months. Bare and I were featured in notable press outlets to include: Forbes.com (Top 10 Female Entrepreneurs to Watch in SD), Pacific Magazine (Top 30 Under 30), The LA Times, E! Online, People Magazine, and Bravo's, The Millionaire Matchmaker where
I braved a stint on a reality TV show for my bare baby.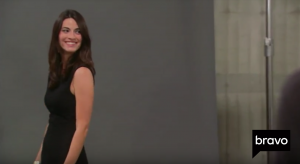 Then, one morning that inner voice started speaking to me again. This time, it was much louder, and it told me it was time to GO. I realized I wasn't happy anymore. I loved what I created, but it was no longer in alignment with my life purpose. I talked about wanting to leave, but I didn't know how, so the universe stepped in, and I learned yet again that we can speak things into existence. One day, I walked into work and was laid off with about 50 other people by lunchtime.
If it's not in Alignment, Let it Go.
I was a 31 year old woman on unemployment living in my best friend's West Hollywood office-turned-bedroom, and my closet was a Walmart clothing rack on wheels. This "ditch moment" came on the heels of another breakup with a man who came into my life just as quickly as he left. His disappearing act or "ghosting" triggered a second trip down the personal development rabbit hole. This time, I learned how to identify my own triggers, stuck points, and patterns, what motivates people to do what they do, and the differences between men and women and how to communicate with the opposite sex. I talked about it so much in fact that I was asked to be a radio show about dating and relationships called Finding Cupid.
Ditch Moments are Growth Moments I took this time in LA to learn, grow, and get back to creative writing.
I call LA the "land of deliberate dreamers" because it is full of people who are deliberately pounding the pavement every single day to accomplish their dreams. Hollywood has a way of making you believe in magic if you experience it with the right people. Thankfully, I did. I wrote numerous blogs, a screenplay (of course), and I fell in love with a fellow creative who was just as beautiful on the inside as he was on the outside. He was loving, supportive, and stable, and he wanted to be my boyfriend by our third date. There was just one problem. While he was grounded and committed in all areas of his life, I didn't feel grounded or committed in any area of mine. I didn't know what I wanted to do. I didn't know where I wanted to live, and I didn't know who I was anymore. I wasn't the bare mixers girl. I didn't have a classroom to call my own. I didn't even have a closet to call my own. I couldn't commit to him because I wasn't committed to me.
Live on Purpose to Love on Purpose.
One night, he said, "You're not going to be able to fall in love with me or anyone else until you're doing what you love." I knew he was right. I needed to get back to my purpose, and I thought I needed to do it on my own. So, and I moved back to San Diego, and of course (well you know the drill by now), this breakup lead me down the personal development rabbit hole for a third time. This time, I studied how to live on purpose, doing what you love to do and actually making a living doing it. I read The Success Principles, one of the most influential books by one of my favorite personal development teachers, Jack Canfield, and I implemented the goal setting exercise to help me get back on track. I wrote down, "By September, 2016, I will make XYZ amount of dollars doing what I love to do every day, and I will feel happy and purposeful." Just as Canfield advised, I read that goal every morning and every night, and I visualized how I would feel when it came true. Then, somehow I was able to let go of my attachment to the outcome and trust that the universe would have my back.
Set Goals and Intentions and Let the Universe Do the Work for You.
90 days later, through a set of synchronistic and magical circumstances, I was offered a position teaching a writing course called (wait for it…) "The Pursuit of Happiness." In the same week, I was also offered my first business consulting contract working with an educational nonprofit. That inner voice that assured me that someday I would get to combine my background as a teacher with my experience as an entrepreneur to help people find success faster turned out to be right, and I was finally teaching because I wanted to not because I had to. I had also reached my financial goal as well and tripled my income. This all happened in 90 days. It felt unbelievable at first, but it was true. 
We Teach What We Need to Learn
For all of my life– it has been the business and personal break ups, the ditch moments, and the stuck points that have motivated me to seek out the  knowledge, tools, and processes that I could implement to become the best version of myself.  In this process of self-discovery, I learned that all of my moments of suffering lead me back to the same root cause– the stories I was telling myself. I had created a bunch of fear-based stories that were on repeat in my head and they were holding me back. I recognized that in every negative story, there is an opportunity to "turn the page" and write a new version– to find the value, the lesson, and the positive lines instead of focusing on the old, highlighted version of the past. I knew if I wanted to start living my best life, I was going to have to stop retelling the old stories and start writing some new ones. Then I started putting together strategies and processes for how to uncover my old stories, read them aloud one last time, and turn the page to start writing a whole new chapter.
Stop Retelling Your Old Stories. Start Writing New Ones.